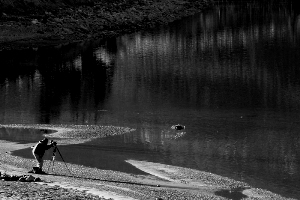 Both photography and woodworking have been serious passions for me for most of my adult life. I am entirely self taught in both. All of my formal higher education is in engineering. I hold bachelors and masters degrees in mechanical engineering from Cleveland State University (79) and Rensselaer Polytechnic Institute (82) respectively. Portrait by Chip Babbit
My move beyond being a strictly serious amateur photographer was sparked by, of all things, an article that appeared in Discover magazine. The article was about a new type of imaging sensor made by Foveon Inc. of Santa Clara Ca., and used in Sigma's SD9 DSLR camera. I had been contemplating the move to digital for some time, so I bought the camera and a 17-35 lens. I was instantly hooked. Constant practice, coupled with a significant investment in equipment and software (made more affordable by having our oldest 3 kids move out on their own), and here I am.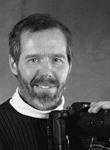 With all 5 kids moved out now, my wife Jan (the real love of my life) are now empty nesters, living in an 1880 farm house in Natick Massachusetts. I hope you enjoy the images I have created and have put on display here. Please feel free to contact me with any comments you have about these images or this site. Thanks for stopping by.
Mike Johnson